Amazing Train Related Gifts for Rail Enthusiasts in the UK
Looking for the perfect present for a train enthusiast? Well, you're in luck because we've found 13 cool gifts for train lovers, all within the UK.
Whilst everyone else is scouring the internet trying to find the most amazing gift, you can breathe a sigh of relief and relax as we've done the hard work for you. 
It can be difficult buying a gift for a rail enthusiast, especially if you don't share their hobby. However, these great gifts will provide you with some inspiration for not only Christmas but birthdays, anniversaries, father's day and any other celebrations throughout the year. 
We've searched high and low for the best gifts across the UK, and there really is something in this list for everyone who loves to travel by rail.
So, without further ado, let's hop aboard and get 'choo choo' it! 
Our Top Pick of Amazing Gifts for People Who Love Trains
10 Amazing Gifts for Rail Enthusiasts
1. Personalised Train Ticket Mug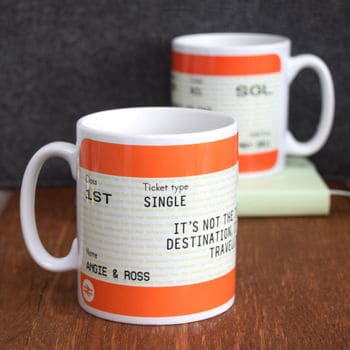 A personalised mug with the design of a traditional train ticket. Is there a more perfect gift for any train lover!? 
The charming mug features a lovely quote about the journey of life. Make this gift extra special by personalising the ticket with your name, date, number of children and adults. 
2. Personalised Wooden Train Set
Made from solid natural wood, this is a wonderful gift for any young train lover by personalising the train set with their name. 
This handcrafted, colourful train makes an amazing toy or even as wonderful decor to your little one's bedroom. 
Question is, is this beautiful train a gift for the adult or child!?
3. Amazing Train Journeys by Lonely Planet
The perfect book for any train lover. Allow them to experience 60 of the world's greatest train journeys from the Rocky Mountaineer in Western Canada to Darwin to Adelaide's The Ghan, to the not-so-famous gems on the train lines.
You can find timetables, maps, ticket options and amazing photos in each section of this wonderful book.
4. Funny Thinking About Trains Coffee Mug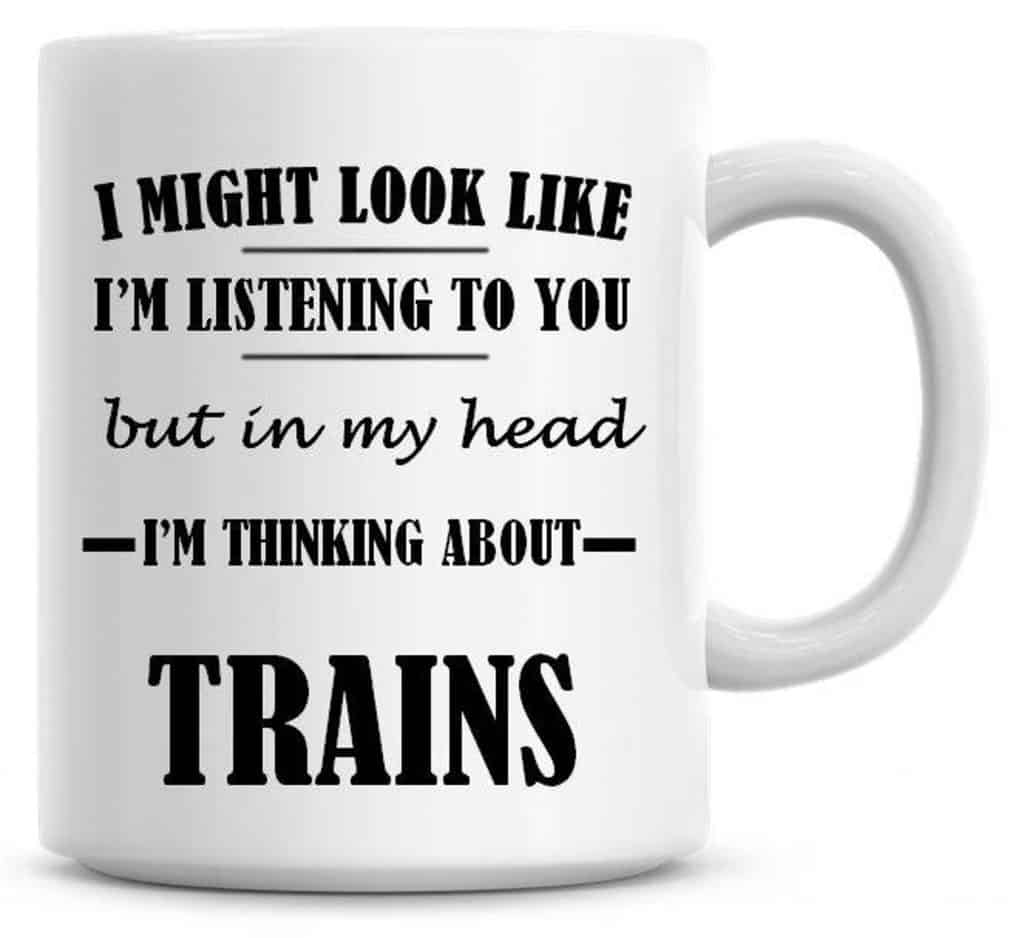 We absolutely love this tongue in cheek handmade mug by Brown Owl Gifts guaranteed to put a smile on any train lover's face.
The perfect gift for anybody who loves train, or as a funny stocking filler.
5. Overnight Sleeper Steam Train Painting by Numbers Painting Kit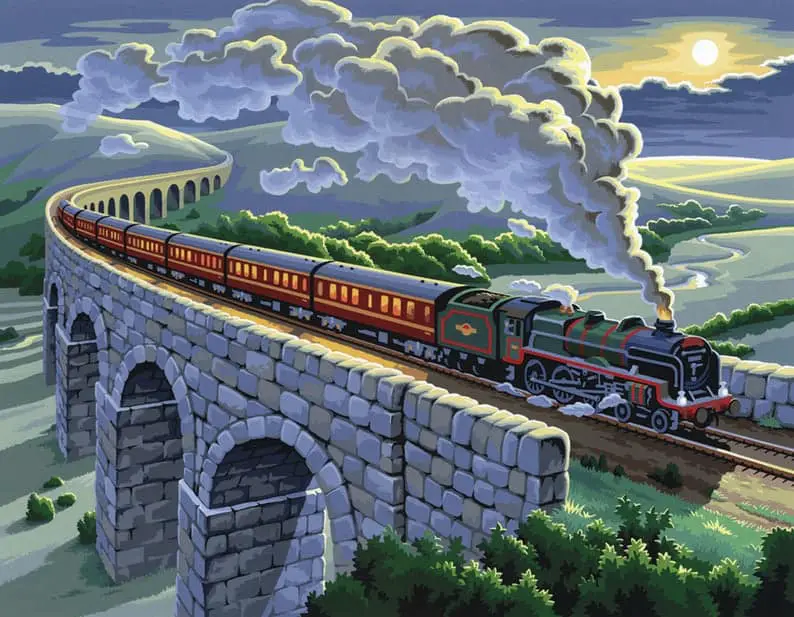 A beautiful gift for all ages from 10+. Keep them occupied for hours with this overnight sleeper steam train by Painting by Numbers, with everything they need to get started. 
The perfect activity gift for any train lover.
6. Train Chocolate Bar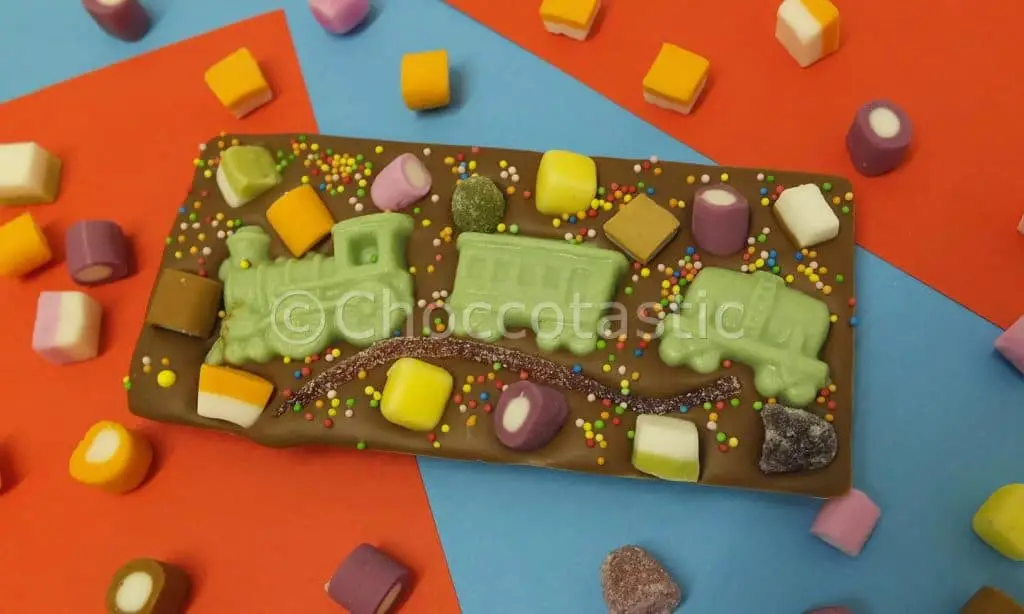 A delicious sweet treat for any rail enthusiast. Choose between white, milk and dark, this Belgian chocolate features a train design decorated with dolly mixture sweets and sprinkles.
Trains AND chocolate. What more could they possibly want!?
7. On The Slow Train: Twelve Great British Railway Journeys
Michael Williams takes us on a journey with him on 12 selected eccentric rail routes across Britain in this wonderful book, as he documents his travelogue, historic buildings and people he encounters along with way.
In this best-selling book, you will find a love of railways, a love of history and plenty of nostalgia to remind us to lift our heads and enjoy life on the slow train.
8. Cheatwell Games Model Kit Flying Scotsman
Keep your train lover busy for hours with this amazing highly reviewed Flying Scotsman 3D puzzle. 
With 165 pieces and clear step-by-step instructions, this is an ideal gift for train lovers and model enthusiasts to start or add to their collection. 
9. Vintage Train Conductor Hat Print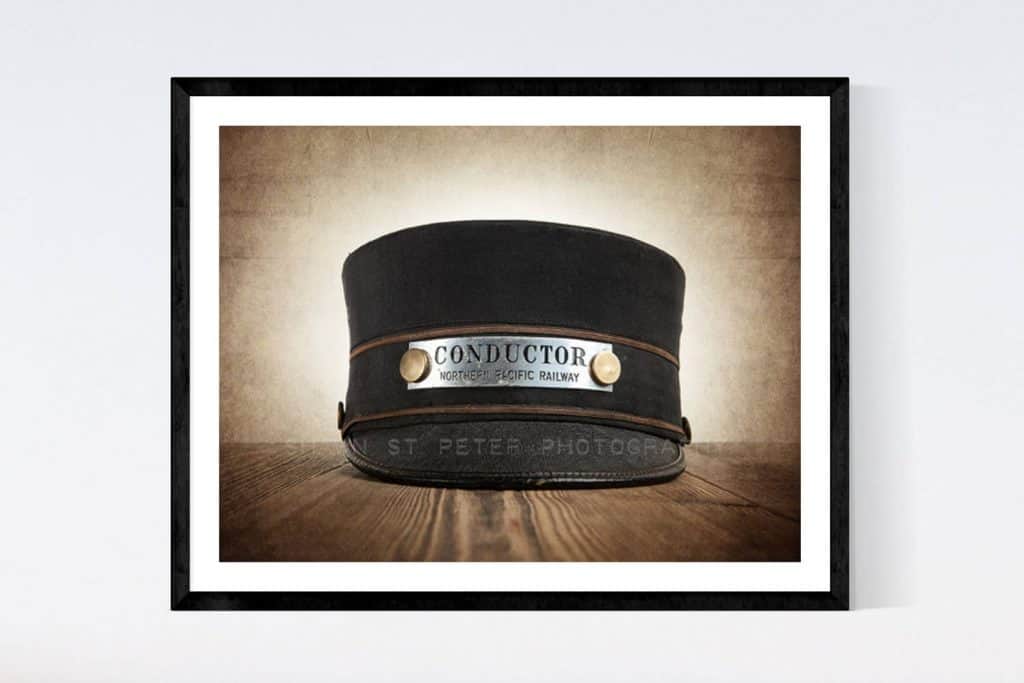 A vintage train conductor hat to add to any train enthusiast's collection of prints and railway art.
Just select if you would like a photo or if you'd like it printed onto a canvas. A wonderful gift for any age!
10. Subscribe to Heritage Railway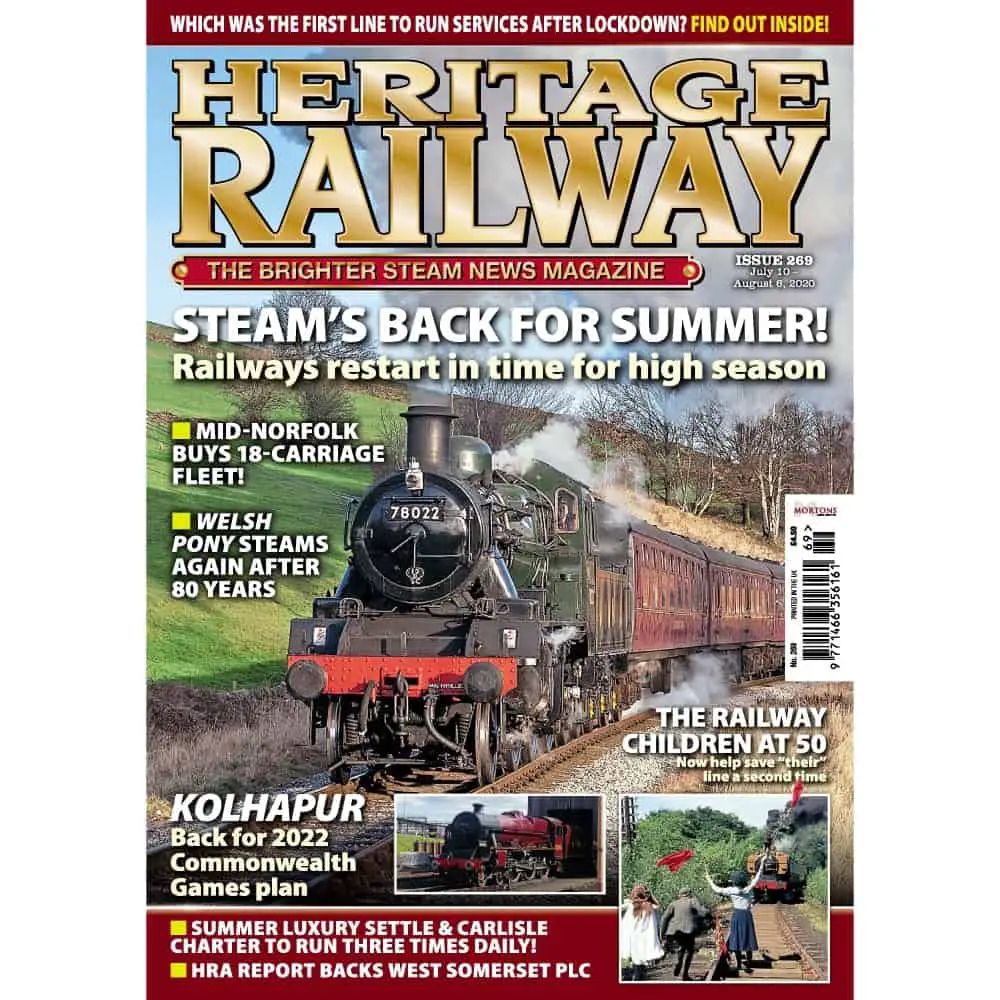 Keep rail enthusiasts occupied with this wonderful Heritage Railway magazine subscription covering every aspect of Britain's network of preserved railways.
From steam, diesel or electric trains, this will be a winning gift for all train lovers.
And, the best part is you can choose whether to have a digital or printed subscription.
3 Gifts for the Train Journey of a Lifetime
1. Experience the Bluebell Railway
Travel 11 miles and admire the Sussex scenery with the Bluebell Railway. This is the ultimate gift and day out for any train lover!
Having first opened in August of 1960, the Bluebell Railway now runs steam trains between Sheffield Park and East Grinstead, stopping at Horsted Keynes and Kingscote.
On selected dates during the year, you can find dining dates, but also afternoon tea and silver service dining, supper specials and rail ale evenings. Take a look at the website to see all that they offer and book tickets.
2. Steam Train Experience with Pullman Style Onboard Dining for Two
They will be so excited to hop aboard this fabulous Steam Train Experience with Pullman Style Onboard Dining for Two. An unforgettable experience with everything you could possibly need for a perfect day out. 
From breakfast or brunch whilst admiring the spectacular views, exquisite food, and classic travel in elegantly styled carriages from the 1950s and 60s. To your return journey with a four-course evening meal and an array of trips and destinations to choose from. 
This is certainly a gift to remember forever.
3. 5 Day Train Lovers' Holiday in the UK
What would a train enthusiast love more than to embark on an amazing train journey across the beautiful British countryside?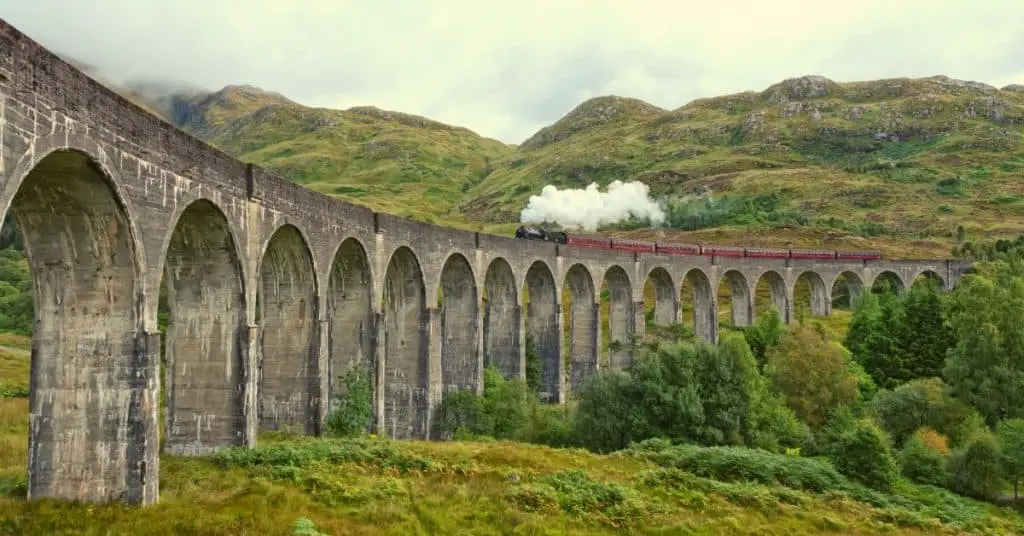 There are so many wonderful rail journeys right here in the UK. Explore different towns and cities within the UK, all by rail and turn it into a holiday for your loved one.
Just take a look at this article on 5 great one-week rail routes by On the Luce for some inspiration and itineraries. 
So, make your gift into the journey of a lifetime by choosing a destination and buying the tickets from National Express beforehand to surprise them. 
We also love this personalised train ticket (see image below). Choose the departure date, and add your names for the special 'cherry on top' of your ultimate train journey away together.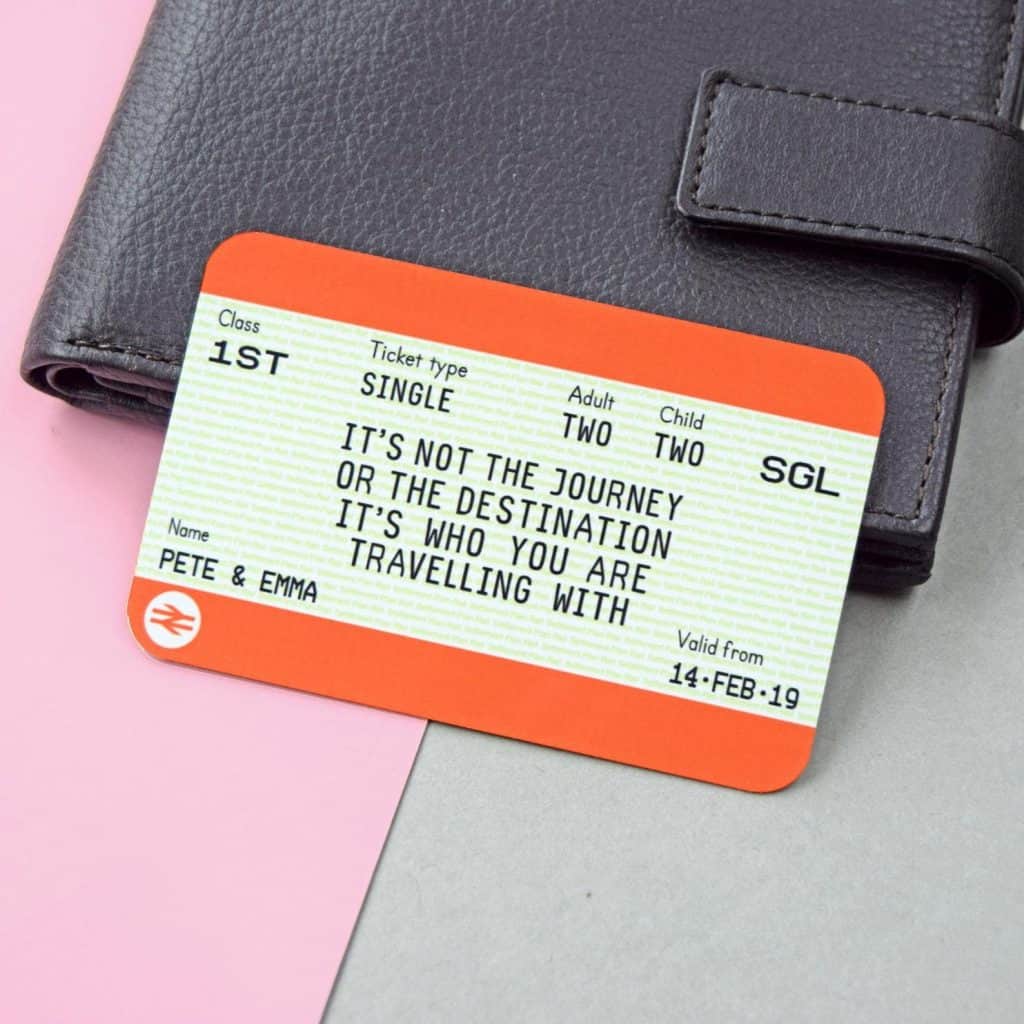 Print your rail itinerary and wrap it up along with the tickets for the perfect gift!
Our Final Thoughts on Cool Gifts for Train Lovers in the UK
And, there we have it. We hope you enjoyed this great list of cool gifts and found something for train lovers – all within the UK. 
Searching for the perfect gift for your loved ones can be incredible stressful. But, from the best books to beautiful handcrafted train sets, to the ultimate journey, we can guarantee there is something for all ages in our list of must-haves for rail enthusiasts.
Which gift will you be buying?
Related Articles on Gift Ideas:
13 Cool Gifts for Train Lovers In the UK