Top Rustic Farmhouse Style Festive Decorations
Farmhouse Christmas ornaments add a country, natural touch to an ordinarily glitzy time of year. 
Wintertime and farmhouses are both closely related to cosiness and warmth, so it's no surprise they go so well together. 
It doesn't matter whether you're in an actual farm, a renovated barn or a modern apartment. Rustic Christmas knick-knacks can suit any decor style. 
We love incorporating natural, homey pieces into our Christmas ornament collection and the farmhouse theme is the perfect way to do this. 
They work great as a subtle addition to an existing collection or as the entire theme of your decorations. 
In this post, we will cover what the farmhouse style means in terms of festive items, our favourite Amazon ornaments, and how you can make your very own!
What Is Farmhouse Christmas Decor?
If you've seen this article and are trying to imagine what a festive farmhouse would look like, then you're in the right place. 
Instead of the usual glitter, metals and bold colours we see around the festive period, farmhouse decor sticks with neutral tones and materials from nature.
Think woods, string, leather, fabric and paper. 
Because of the natural materials, the colour palette tends to differ from the classic reds and golds of a typical decor style.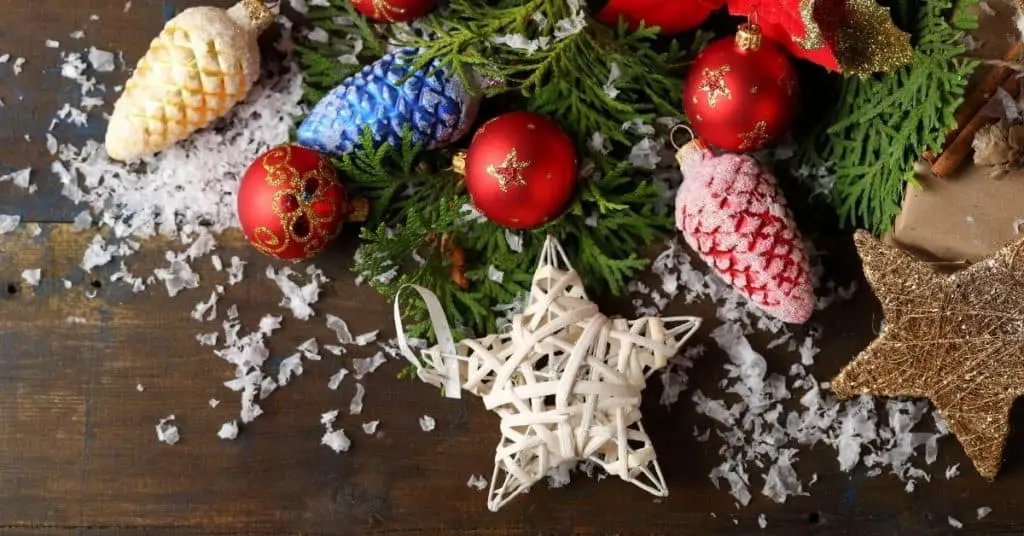 Decorated rooms will tend to have highlights of white, blues and woody colours. 
Take a look at this absolutely gorgeous video of a home decorated in a farmhouse style. (Warning: you'll want to start decorating for Christmas after watching this!)
The Best Farmhouse Christmas Ornaments
Now we've covered the overview of what farmhouse Xmas decor looks like, lets get into our Open For Christmas top picks. 
18-inch x 5-inch
Also available in reds, greens and greys, these knitted stockings are unbelievably cute and would look good hung up on any fireplace. Whether used as your actual Christmas stockings or just as decorations, these socks add a homey and warm touch that just melts our hearts.  
50-inch x 67-inch
Add some cottage charm to your living room this Christmas with this gorgeous plaid throw blanket. The colours are neutral but still feature a classic red and green for that festive feel. Lay this blanket over a sofa or armchair, or use as a bed throw to add a subtle touch of Christmas to your bedroom.
18-inch x 18-inch
Get festive with these red black and cream cushion covers. We love using festive pillowcases in place of our year-round ones as it's an easy switch that makes a big difference. Just make sure you buy the right dimensions as your usual throw pillows. 
Note: Pillowcases only so will need to use or get your own inserts, we like to use these – Foamily Set of 4-18 x 18 Premium Hypoallergenic Pillow Inserts. 
5-inch x 7-inch
Not designed to be a Christmas decoration, but the perfect opportunity to add a personal touch to your winter decor. Whether you fill these with festive postcards or family photos, these frames enhance a festive interior and can also be used throughout the year to make the most of them. 
Various Lengths  
Add a touch of country to your Christmas dining table this year. This subtly rustic runner features a neutral red and white stripe design that will complement any festive dinner set.
The hard-wearing cotton fabric really bring that farmhouse vibe. As well as looking Christmassy, these also work fabulously as a table runner for a vintage summer picnic. 
Farmhouse Christmas Tree Ornaments
We absolutely love adding cottagey, natural-looking ornaments to our trees as there's something extra cosy about it. We've collected some of our favourites to recommend, and inspire your farmhouse Christmas tree. 
50 pieces
There are endless possibilities for this set of 50 intricate tree ornaments. Either hang as they are or enjoy a crafting project by painting and decorating these adorable wooden ornaments. For a farmhouse vibe, paint these baubles in whites, greys and subtle reds, greens and baby blues.  
6.26inch x 3.27inch
Well, just look at them! We are sure you won't need convincing of how darn cute these are. Each individual ornament is so realistic and just makes us so happy. These are made to look like real homemade gingerbread cookies, so they add a nice homey touch to a tree. 
P.S. You might be tempted to take a bite!
6.9 x 4.3 x 2.1 inches
A tradition going back to 18th-century Scandinavian folklore, when gnomes were believed to be responsible for a family (or farms!) prosperity. Whether you believe in this or not, you can't argue against how sweet they are. Their handmade design features natural felts and other fabrics that'll be right at home in your farmhouse tree. 
7.7inch x 7.2inch – Pack of 8
These rustic Christmas tree ornaments are made of high-quality burlap natural fabric and humble twine, with accented with holly leaves and berries to add a special Xmas touch.
The fabric of these hanging decorations adds a nice contrast to the green tree and harder materials like glass and metal. 
This brand also has loads more farmhouse style house decor for Christmas and in general.
How to Make Farmhouse Christmas Ornaments
There's no better way to get that hand-crafted look of a farmhouse cottage than making your own. Taking on a crafting project can be daunting, especially for something as significant as Christmas. 
But don't worry. We've sourced and simplified the best of the best to give you the easiest, no-way-it-can-go-wrong, rustic ornaments that you can be proud to say you made. 
Materials for DIY Farmhouse Christmas Ornaments
If you're a seasoned crafting pro, then you can probably look at the materials and know exactly what you want to make. 
Sometimes staring at a pile of materials is all that's needed to spark your inner-creative. 
Here are some items that are required for a lot of DIY rustic decor projects:
Easy DIY Farmhouse Christmas Ornaments
We've put together super-duper-simple ways you can DIY your festive farmhouse decor. Our ideas are sorted by material so you can find fun ways to use what you can get your hands on. 
Plaid Ribbon or Burlap
Decorate bannisters
Wrap around the tree 
Over the fireplace
Mini table runner on coffee tables
Tie bows on dining chairs 
Tie around a pot, plant, jar or candle
For all of these, the cuttings can be decorated or left blank:
Place settings 
Gift tags
Tree ornaments 
Festive coasters
Party invitations
Our Final Thoughts on Farmhouse Christmas Ornaments
It's safe to say we are feeling extra cosy and Christmassy after looking at all those rustic decor pieces. 
There's just something so warm and inviting about the natural materials and subtle colours of country living. 
The great thing about farmhouse Christmas ornaments is that they're easy and fun to make without having to fork out on obscure materials.
It's likely you'll already have some crafting bits lying around that can be transformed into cottage-style knick-knacks. 
If you're planning on buying your farmhouse festive pieces, then no matter your interior style your bound to find something you'll love that will enhance your living space. It's such a versatile addition to any home and we just can't get enough!
We can't wait to get decorating and adding some more cottagey bits to our collection.
So whether you're joining us at Open For Christmas on a shopping spree, or knuckling down at your crafting table, we hope you've felt inspired by this post and are glowing with that Christmas feeling. 
Related Christmas Decorations Articles:
The Best Farmhouse Christmas Ornaments and Easy DIY Ideas